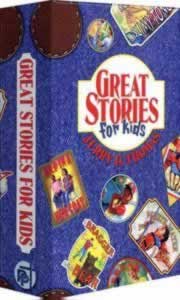 Help for growing healthy and happy kids!
While reading the stories in these books - or hearing them read - kids will learn to make good choices about television, what to do in emergencies, and how to face unfairness. They'll also learn about dealing with prejudice, about being courteous, about making friends and about dealing with drinking in the family, as well as other issues. This book will not only entertain kids - it will reinforce some of the most important things they are learning as they grow up and become healthy adults. In each book, the stories and pictures will make you jump back, laugh out loud, and keep you guessing what will happen next!
Books in the set include:
A Skunk by the Tail, Danger on Seventh Street, The Midnight Raccoon Alarm, Disaster at Dark River, and A Horse, a Hat and a Big Wet Splat
Comments (2)
Dear Mr. Jerry,
My name is Rachel. I like the books called Great Stories for Kids. It was interesting when you showed us the stuff that we need for a story. It was cool that we got to meet you. You have great answers for questions. Your stories draw people to God.
Sincerely,
Rachel
Crest Lane School
Posted Feb 03, 2007 | 7:15 PM by Rachel
I read this collection in Spanish, and they were a help in my life.
Posted May 01, 2007 | 11:55 AM by Yireh Morales
---