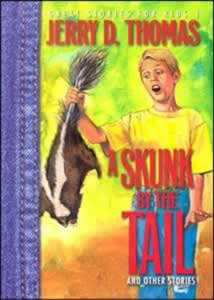 "I dare you to do it," Steven whispered to his cousin.
"I dared you first," Kyle hissed back. "Are you afraid?"
A skunk can't spray you if you pick it up by the tail. Or can it? If you like stories full of adventure, danger, mystery, and fun, you'll love A Skunk by the Tail. Get in on the "Armadillo Roundup," fight a computer war in "Delete Derrick," and solve "The Secret of the Light Saber."
Besides stories about baseball, bears, family vacations, and other stuff, you'll get to see how other kids handled some of the things you have to deal with. Things like being teased, bullies at school, making good choices, arguing with your parents or brothers and sisters, and making friends.
A Skunk by the Tail is book one of the Great Stories for Kids set. In each book, the stories and pictures will make you jump back, laugh out loud, and keep you guessing what will happen next!"
Comments (2)
it's a very good book with lots of interesting stories i like the ones about delete derick.and the stories about the missing flashlight .
look forward to reading more of your book
lisa sibanda
Posted Apr 17, 2008 | 5:44 AM by Lisa
i enjoyed the book it taut me a lot and gave me some goo advise. it helped me with my church achievement classes and explaned what the messege was from each os the stories. i read it every single day before i prayed to go to bed i still got and i still read it although i finished it months ago, i read over and over again. now i fell like i know it by head. i'm looking foward to reading more of your books. i'm only 12 years old.
god bless you
Posted Jul 09, 2008 | 12:53 PM by Lisa s
---