Jerry's weblog
Ethan comes for a visit
It was great fun to have a visit from my grandson Ethan (and his parents) recently. He a busy boy, 15 months old, and just starting to talk. He had great fun throwing balls, playing his balloon, and eating spaghetti, as you can see. We had a great time watching him, and playing with him.
If you're a new visitor, welcome to my website!
This is my place to connect with you--the people I write for. So whether you're a kid or a grown-up, take a look around. Check out the books you haven't read.
If you're a kid, click the kids mode button. If you're older, then the grown-up mode is what you're looking for. In both places, you can find out if I'm visiting somewhere near you. Leave a comment on my weblog or send me an e-mail. Tell me what you think about a book you've read. If you find a book you're interested in-or one you think a kid you love would like-click on it and you'll find a way to order it.
Posted Sep 17, 2008 | 3:02 PM | Comments (0)
Good old friends from the good old days
Thirty years doesn't seem so long when you're catching up with old friends. Kitty and I had a great time at our 30-year academy alumni weekend at Valley Grande Academy. It was good to be back on the campus of VGA and remember what real humidity is! We shared a lot of memories of the good old days and got caught up on each other's lives. I am very impressed with how my old friends are turning out. And as Kitty said, after 30 years no one is trying to impress or outdo anyone anymore. We've accepted that life comes with joys and troubles, with successes and setbacks. It was great to see you all again, class of '78. Let's do it again soon.
Posted Jun 03, 2008 | 9:59 PM | Comments (0)
A Whole New Year
One of my favorite quotes comes from Spock of the Star Trek shows. "There are always possibilities," he says. This reminds me that there are always things that we haven't done before, always thoughts we haven't had before. Who knows what unique opportunities the coming days will bring?
I hope the new year before you is brimming with joy--and all sorts of possibilities!
If you're a new visitor, welcome to my website!
This is my place to connect with you--the people I write for. So whether you're a kid or a grown-up, take a look around. Check out the books you haven't read.
If you're a kid, click the kids mode button. If you're older, then the grown-up mode is what you're looking for. In both places, you can find out if I'm visiting somewhere near you. Leave a comment on my weblog or send me an e-mail. Tell me what you think about a book you've read. If you find a book you're interested in-or one you think a kid you love would like-click on it and you'll find a way to order it.
Posted Apr 16, 2008 | 12:44 PM | Comments (0)
My family grows
I can't resist having a favorite photo on my welcome page. We're so happy to share that our son Jeremy married Lyndsi Hersey this month. We love Lyndsi and we're delighted that she'll be part of the family from now on.
Posted Nov 21, 2007 | 3:00 PM | Comments (0)
Weddings make me tired

Kitty and I recently celebrated the wedding of our youngest son, Jeremy. Now all three of our kids are grown and married and that phase of our parenting is finished. Overall, the whole parenting experience has left me tired and older--about 27 years older. Actually, we're delighted with how our kids turned out and that they're all creating their own families and lives. The house has been growing quieter over the last few years, and now it is truly ours alone.
Party time!
Now if we can just remember how that works . . .
Posted Aug 20, 2007 | 9:52 AM | Comments (3)
Proud grandparents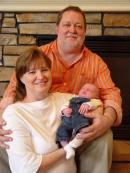 Kitty and I with our grandson Ethan
Kitty and I really enjoyed meeting baby Ethan for the first time last month. Now we have to live on new photos and a web cam until we go visit again next month.
A grandchild is an ongoing illustration of the concept of unconditional love. You can look into those little eyes and know that even though the little tyke has never done anything for you, even though he or she doesn't even know who you are, you'd do anything for them. You'd "take a bullet" for them, as they say, without a second thought.
Maybe grandparents get a little glimpse into the nature of God every time we look into those little faces.
Posted Apr 28, 2007 | 4:57 PM | Comments (0)
The perfect person for me
Last weekend visited my old high school, Valley Grande Academy, for its 70th Alumni Weekend. It's been 29 years since I graduated and I have a lot of great memories. I can truly say that VGA changed my life; because it was there that I met my wife, Kitty. It's incredible to think of all the different things that had to happen for me and Kitty to be at that school at that time.
Looking back, I am amazed at God works things out. I don't necessarily think that two people are destined to be together or that God made one person specifically for you, but I do believe that God knows each of us and when He looks at us, He sees the person we could be.
Like a parent, He wants you to find someone that will make you happy, make you a better person, and bring you closer to Him. God knew that I needed someone like Kitty to be my better half, to encourage me when I'm down, to always believe in me. And I am thankful everyday for His wisdom.
Take a look around you at the people in your life. Who did God bring into your world to help you become the amazing person that He created you to be?
Posted Apr 07, 2007 | 2:39 PM | Comments (0)
Everyday choices

Corpus Christi
My wife and I recently traveled to Corpus Christi to visit a church there. It was a wonderful trip for me because it was a walk down memory lane. Corpus Christi is where we went on our honeymoon over 28 years ago. It got me thinking about all the twists and turns our lives had taken over the years and how we ended up where we are today. There are lots of choices we make in life, big and small. And the choices we make are what determine the people we become. You may be at a crossroads in your life and have to make a choice on what the next phase of your life is going to be. Or you may only be dealing with simple choices, like what to wear today. Regardless of what choice lies before you, I have learned the importance of leaning on the Lord as you make those decisions. So you wonder, what does God have to do with what I wear today? Well, simply think about what you're wearing says about your lifestyle and your priorities. Is it important to you to have the latest styles and fashions? Do your clothes show respect for your body and its creator? Sometimes the correct choice is obvious, but still not easy to make. Do we ever actually stop and make a choice between going out to a nice restaurant for dinner or donating that money to help people who have no food? Even the simplest of choices speaks of your character and your relationship with God. So stop for a moment today and think about what your choices say about you and what they say about the God you claim to follow.
Posted Mar 23, 2007 | 7:51 AM | Comments (0)
Writer's Clinic at Jacksonville Adventist Academy

I had fun visiting with 3rd and 4th grade class at Jacksonville Adventist Academy.
There's nothing nicer than a trip to Florida in February! The only thing better than the weather was the chance to spend a day with the kids at Jacksonville Adventist Academy. They have a Writer's Clinic every year and I had the privilege of being there to share some of the things I've learned about writing books and stories--plus I got to tell a few stories and read one of my books for the younger grades.
I also got to read some of the stories that students are writing. I want you to know that these kids are real writers! I was especially impressed with their creative ideas.
I want to say thanks to JAA principal David Gardner and writer's clinic coordinator Melojeane Zawilinski for inviting me and for making me feel right at home. Mrs. Z and each of the other teachers are doing a great job of teaching their students to write.
Best wishes for the rest of the school year, JAA. I hope to see you all again soon!
Posted Feb 27, 2007 | 10:07 PM | Comments (8)
Surprise skit!

Students from Hill Country Adventist Christian School perform a skit based on one of my Detective Zack books.
Recently, I attended a spelling bee for five schools in the Austin, San Marcos, San Antonio (TX) area. I was very impressed with the spelling skills of all the students. Then the students from grades 3-8 at the Hill Country Adventist School in Kerrville surprised me with a skit from one of my books! They performed a scene from Detective Zack and the Mystery on the Midway. They did such a great job I wanted to share this photo of them on my website. Thanks also to their teacher, Ms. Brendia Bennett, for introducing them to my books.
Posted Feb 14, 2007 | 5:10 PM | Comments (0)
A sweet note from some of my favorite little people
I received this nice note from the Kindergarten and 1st grade class at the Bentonville School after my visit there:
Thank you for taking the time to visit our classroom and for sharing so much with us. You inspired us to do more with our reading and writing, and we especially enjoyed listening to you read one of the books you have written. God used you to teach us and to bless us. Thanks so much for sharing with us!
With love,
Mrs. Harris and your friends from the Kindergarten and 1st Grade Class, Bentonville Adventist School
Posted Feb 03, 2007 | 11:40 PM | Comments (0)
Writer's Day in Maryland
Did I ever have a great time at the writer's day in Maryland! With more than 100 kids from seven different schools gathered together at the Review & Herald Publishing Association in Hagerstown, it was a busy day. Groups of about 20 kids rotated through the room where I talked about writing. Writing is like building a house, I told them. Want to know how? Maybe I'll come to your school and I can tell you all about it.
Posted Feb 03, 2007 | 8:49 PM | Comments (5)
Family holidays
After a long recovery from the holidays, I'm finally back to my blog. Kitty and I were delighted to have our children home for the holidays. Our son and daughter-in-law, Jon and Christy, visited from Idaho. They are expecting our first grandchild, something you're sure to hear more about in the very near future. Our son Jeremy and his friend Lyndsi also came down to spend time with us during their break from school. Our daughter and son-in-law Jennifer and Jered lived right here with us so we get to have them nearby all the time. I heartily recommend having grown children—it makes raising them worthwhile! I hope you were able to share some of the happy holiday season with your family as well.
Posted Jan 21, 2007 | 7:42 PM | Comments (0)
God does amazing things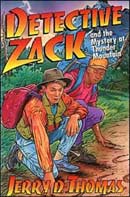 When I was writing the Detective Zack series, Mrs. Sox (editor of Primary Treasure) suggested a Detective Zack adventure that focused on baptism. The result was Mystery at Thunder Mountain, the summer camp story where Zack learns that the Bible is true because people really do change when they accept Jesus.
Recently, at the teachers' convention, a 2nd grade teacher shared this story. I wish I could remember her name, but I signed 2500 books that day and I could barely remember my name by the end of it. (My teacher friend, please write and introduce yourself again)
She was reading Mystery at Thunder Mountain out loud to the class. Near the end of the book, the summer camp staff performs a "passion play" skit, acting out the last days of Jesus' life and the crucifixion. Then the pastor invites campers to stand if any wanted to give their lives to Jesus. When she read that, all 12 students in her class stood up beside their desks. That surprised her, but she kept reading. Next the pastor in the book invites campers who wanted to be baptized to come forward. All 12 of her students came up to the front of the classroom. A little confused and not sure what to do, she pointed out to them that "What the pastor is saying is part of the story."
"We know," they said. "But we want to be baptized too."
She prayed with them, then went and called the pastor, asking him to come to her classroom that afternoon!
Since they were 2nd graders, not all were ready for baptism right away. But two have already been baptized now and the others are studying with the pastor.
What a precious story! I was overwhelmed to hear how God is using my books to touch lives—especially young ones.
Posted Aug 22, 2006 | 9:43 PM | Comments (3)
Mingling with teachers

It was a pleasure to meet all the wonderful teachers in Nashville.

I signed more than 2,500 copies of my new book, "What we believe."
Teachers are my kind of people. Maybe it's because I was once a teacher. Maybe it's because they share my desire to make difficult things understandable. Or maybe it's just because they know my books!
It was a privilege to be at the NAD's Teachers' Convention last week in Nashville. With about 6,500 educators in attendance, even a place as large as the Gaylord Opryland Hotel was a busy place. And let me say this about teachers—they're as hard to get to class on time as their students are. At least, there were a lot of teachers standing around in the hallways and exhibit hall while the meeting were going on!
Really, a convention of teachers is just a big family reunion. Everyone you turn are people who you went to school with, people you taught with, people you taught somewhere, or people who taught you. It's a family tree whose roots go deep. It's a shared experience that binds our church together.
The North American Division Department of Education purchased a copy of my new book, What We Believe, for each of the teachers attending the convention. I had the pleasure of signing about 2,500 of them. As I signed these books and various copies of Detective Zack, Messiah, Great Stories for Kids, and Shoebox Kids books, I was deeply touched by the stories I heard. Teachers told me how they were using my books in the classroom and how students' lives had been touched by the stories.
I was both amazed and honored to hear what an impact my books have had. God has done wonderful things with the words I've put on paper.
Posted Aug 12, 2006 | 12:57 PM | Comments (3)
---