Jerry's weblog
God does amazing things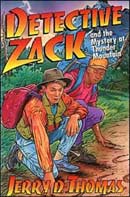 When I was writing the Detective Zack series, Mrs. Sox (editor of Primary Treasure) suggested a Detective Zack adventure that focused on baptism. The result was Mystery at Thunder Mountain, the summer camp story where Zack learns that the Bible is true because people really do change when they accept Jesus.
Recently, at the teachers' convention, a 2nd grade teacher shared this story. I wish I could remember her name, but I signed 2500 books that day and I could barely remember my name by the end of it. (My teacher friend, please write and introduce yourself again)
She was reading Mystery at Thunder Mountain out loud to the class. Near the end of the book, the summer camp staff performs a "passion play" skit, acting out the last days of Jesus' life and the crucifixion. Then the pastor invites campers to stand if any wanted to give their lives to Jesus. When she read that, all 12 students in her class stood up beside their desks. That surprised her, but she kept reading. Next the pastor in the book invites campers who wanted to be baptized to come forward. All 12 of her students came up to the front of the classroom. A little confused and not sure what to do, she pointed out to them that "What the pastor is saying is part of the story."
"We know," they said. "But we want to be baptized too."
She prayed with them, then went and called the pastor, asking him to come to her classroom that afternoon!
Since they were 2nd graders, not all were ready for baptism right away. But two have already been baptized now and the others are studying with the pastor.
What a precious story! I was overwhelmed to hear how God is using my books to touch lives—especially young ones.
Posted Aug 22, 2006 | 9:43 PM
Comments (3)
I really believe in Christian Education. Using meaningful materials, like the ones you write, allows us to integrate spiritual lessons with the other curriculum. I have used several of your books as textbooks for reading class. They also work well as read-a-louds like the teacher in your story indicated.
Posted Aug 26, 2006 | 3:47 PM by Kris Key
YES YOU ARE IN MY SCHOOL. MY MOM IS MY TEACHER AT SCHOOL AND SHE READS YOUR BOOK "WHAT WE BELEIVE" EVERY MORNING AND EVENING AT SCHOOL FOR DEVOTION.
PLEASE WRITE BACK
Posted Sep 02, 2006 | 6:37 PM by KARIM
Karim, it's good to hear from you again. Tell all the other kids at your school I said hi. One of my favorite things about being a writer is hearing from kids who like my books. I hope you don't have any homework this weekend!
Posted Sep 02, 2006 | 6:50 PM by Jerry D Thomas
---