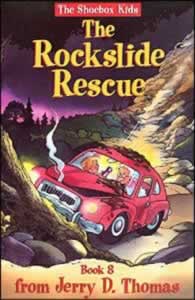 # 8 in the Shoebox Kids series
With old plastic butter tubs and a bag of electronic parts, Willie, Chris, and Sammy build secret code transmitters. Before long, they're sending Morse Code messages no one else understands!
Then, while driving on an old road through the mountains - Willie and his grandpa are swept away by a rockslide! With the car smashed into a tree at the bottom of a canyon, and Grandpa's leg caught in the car door - they're trapped. And no one knows where they are!
When Willie doesn't make it home, the search begins. But no one knows that the car is down in the canyon! Can Willie trust Jesus to help them, even when it seems like they'll never be found?
Join the Shoebox Kids in another exciting adventure that teaches us about trusting in God. Will Chris and Sammy figure our what happened to Willie before it's too late?
Comments (0)
---