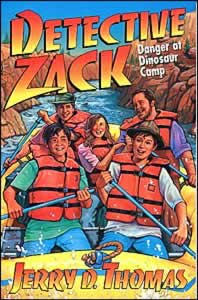 "#6 in the Detective Zack Bible Adventure series!
The large footprints in the canyon, reports of a long-necked creature, loud, creepy cries in the night-it can't really be a live dinosaur, can it? If dinosaurs still roam the earth anywhere, it would be at Dinosaur Camp, the site of this Detective Zack adventure. To make matters worse, there's a thief loose in camp. When Zack's trap backfires, suddenly he, his sister Kayla and and their new friend Luis are the suspects! After someone claims they saw a dinosaur, eerie noises are enough to get other campers packing up. But for Zack, it's just getting interesting!
Dinosaur Camp brings Detective Zack and his family to Dinosaur National Monument, where dinosaur bones and fossils of many kinds are found. There, Dr. Bones, a paleontologist who believes in God, will try to help Zack and company find answers to the mystery of the dinosaurs.
A wild white-water raft ride, a dinosaur park, and a deserted canyon lead Zack, Kayla, and Luis to an amazing discovery-and a better understanding of the truth about dinosaurs."
Comments (3)
Dear Jerry Thomas,
I really like your Detective Zack books. I want to get all of your Detective Zack books and all the rest of your books. In book four (Mystery on Thunder Mountain), I really like the mystery. I like the mystery in book six too (Danger at Dinosaur Park). Thank you for coming to the Review and Herald and telling us about writing.
Sincerely,
Garrett
Crest Lane School
Posted Feb 03, 2007 | 7:10 PM by Garrett
Dear Mr. Thomas,
My name is Kyle. I like your books. I'm in second grade. I am eight years old. I try to do stuff right. What is the longest book you ever wrote? I like book two in the Shoebox Kids. I'm reading book one of Detective Zack. I hope it's a good book.
Sincerely,
Kyle
Crest Lane School
Posted Feb 03, 2007 | 7:12 PM by Kyle
Hay jerry I'm a student from jaa 3rd&4th. I love your books so much. I hope to see you again sometime.
Posted Jul 26, 2007 | 12:40 PM by Eli
---