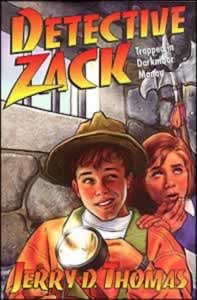 Number 9 in the Detective Zack Series
On a trip to London, England, Zack and his old friend, Stef, try to figure out what happened to the manager of Darkmoor Manor museum. Did someone steal her away? Or did she take the money and run? And what's with all those funny words the English people use?
While Stef is sure her friend is in danger, Zack is sure he's got a mystery to solve about the Bible. How do we know that what's in our Bibles today is what God wanted to say? How do we know the stories are still true when they were repeated from one person to the next for thousands of years before books were printed and people could read?
When Zack and Stef get trapped inside the museum, they have to figure out a way to escape or they might end up disappearing too!
In another adventure that builds faith, Zack and Stef find the clues they need. But can they figure out the answers in time?
Comments (5)
Posted Feb 27, 2007 | 7:37 AM by Destiny
your books are so cool!!!
Posted Feb 27, 2007 | 7:46 AM by Eli
Hi Mr.Thomas its me Melissa from Mrs.Herberts third grade class at JAA. I just Emailed you to say I love your Detective Zack book Trapped in Darkmoor Manor, you know number 9. Mrs.Herbert keeps on reading it to us every day. SEE YA.
Posted Feb 27, 2007 | 8:02 AM by Melissa
Hello Mr.Thomas,
I love the Detective Zack books you wrote.
Remember me I wrote that mystery story about the
sword. Your stories are great. Hope you come
back to visit us here at JAA.
Love,
Kynah
Posted Feb 27, 2007 | 8:15 AM by Kynah
It's great to hear from my friends at JAA. I'm glad you guys liked this book--try the other Detective Zack books and let me know if you like them too.
Posted Feb 27, 2007 | 9:20 AM by Jerry D Thomas
---