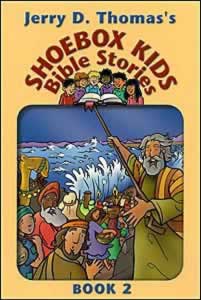 #2 in the Shoebox Kids Bible Stories series!
As Sammy, Jenny, Willie, DeeDee, Chris and Maria (the "Shoebox" kids) meet at church, they find that their Bible stories have a strange way of fitting into the things that happen to them every day! Each week brings a new adventure in learning what the Bible means in real life-at home, at school, or on the playground.
The Bible stories in this book start with Eliezar's search for a wife for Isaac, includes Joseph's dreams, and ends with the parting of the Red Sea and bread from heaven. The Shoebox Kids stories that go along with those from the Bible start with Dee Dee's search for the perfect birthday present, includes a gerbil loose in the church, and ends with Jenny's week-long pizzafest. Questions at the end of each chapter make sharing Bible lessons interesting and fun!
In Book 2: From Isaac to the Red Sea, your children will learn lessons in giving, truthfulness, God's plan for their lives, reverence, Sabbath rest and more!
Every story is an adventure in learning to be more like Jesus!
Comments (1)
Dear Mr. Thomas,
My name is Kyle. I like your books. I'm in second grade. I am eight years old. I try to do stuff right. What is the longest book you ever wrote? I like book two in the Shoebox Kids. I'm reading book one of Detective Zack. I hope it's a good book.
Sincerely,
Kyle
Crest Lane School
Posted Feb 03, 2007 | 7:12 PM by Kyle
---