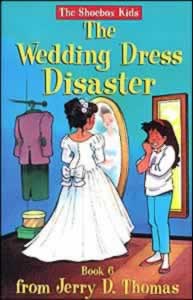 When Maria is invited to be in her aunt's wedding, she can't wait for that "perfect" day when everything will happen just the way she plans.
Then everything starts to go wrong. First, Maria's special dress is short--and all the other bridesmaids' dresses are long. She just knows she can't wear it and mess up her aunt's perfect wedding. Besides, what if her friends laugh at her different dress?
In this Shoebox Kids Mystery, Maria learns about commitment, about keeping a promise even if you don't feel like it. Between her dress problem, her brother Chris's teasing, and her little sister Yoyo's help, sometimes she doesn't feel like it at all.
The day of the wedding, something even worse happens--her special dress disappears! Could it be another one of Chris's jokes? Or was it stolen by the mysterious stranger with the diaper bag? With the wedding starting in just minutes, Maria, Jenny, Chris, and Sammy have to find the answers--and find that dress!
Comments (0)
---