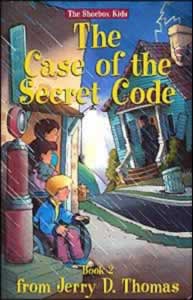 Book 2 of the Shoebox Kids Series
Something strange is going on at Willie Teller's house. A mystery person is sending him coded messages on his computer-could it really be God? His missing library book miraculously shows up, and Coco, his dog disappears! How could all this happen in just two days?
It all stated like this. Willie and his friends from the Shoebox always have their nose in some kind of adventure. When Willie gets a new modem for his computer, the adventure begins for the Shoebox kids in this perfect clue-finding mission that will reveal the truth about the disappearance and about prayer. But watch out! Who knows when and where the mystery person may show up!
Decode the secret message below, and you'll be on your way to solving this important case with Willie and his Shoebox friends
T L L W O F X P W V G V X G R E V
Comments (3)
Posted Apr 18, 2007 | 12:54 PM by kenneth harwood
Hello im Cierra your books are Fantastic!!!!!
We already read Rattlesnake river it was a really good book now we are reading The Case Of The Secret Code were on chapter 7 im in 4grade I have black hair brown eyes and brown skin I might become a book writer. I got a book name for you The Beach Of Secrets Im 9 hope you make a book of the story I said thanks for speaking with me Cierra
Posted Apr 18, 2007 | 1:06 PM by Cierra Lynn Trujillo age 9 grade 4
The Shoebox Kids Books are very interesting
Posted Apr 01, 2008 | 4:02 AM by Delight
---