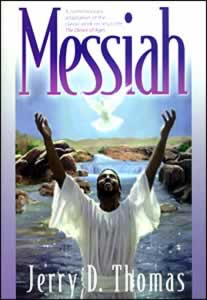 African American paperback edition of Messiah
There is nothing more powerful that the story of Jesus. It can reach across time and change hearts today as people come in contact with the love that is demonstrated there. It was my great privilege to adapt Ellen White's The Desire of Ages, written more than 100 years ago, into words that resonate with us in the 21st century.
When I stop and think about it, I'm amazed at having done this work. It needed to be done—those precious truths were in danger of being lost completely in the next generation. When Ellen White wrote Desire of Ages, it was to help people understand the Bible. Today, we have versions of the Bible that are much more understandable than Desire of Ages. I just wanted to make Messiah do what Desire of Ages did when it was written—help people see Jesus.
The response to Messiah has been overwhelming. From grade school kids to retirees, people have told me how much it means to them to be able to read and appreciate the story of Jesus.
Comments (2)
I just want to express my thanks for the book Messiah. I bought it at a ABC sale a year ago, but just started reading it in the last month. I now use it for worship with my teens, and all three love it.
We just recently returned from a mission trip to Ghana. The people there love EGW books, but because of the cost only can afford "Steps to Christ". I left them my travel series of EGW books, but realized I want to send them more.
Since I left them my Desire of Ages, I started reading "The Messiah". Now I would like to send that book to the people in Ghana. On Friday, I ordered a case of "The Messiah" to be sent to them, but seeing the African American Messiah, I was curious to know the difference in the two editions. Is it just a cover difference? If you have time, I would love to hear if you think that this edition would better meet their needs in Ghana.
Thanks again for letting the Holy Spirit use you to write such a life-changing book.
Posted Sep 02, 2007 | 9:02 AM by Monica Barlow
This book is absolutely fantastic. It makes Jesus' life on earth so real. I am only on chapter 30 but I have already put it on my favourite book's list. I haven't read any of your other books but I definitely will now as you are an amazing writer.
God Bless
Kayleigh
Posted Nov 04, 2007 | 7:22 PM by Kayleigh
---