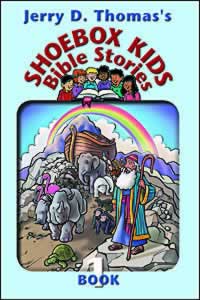 Real‑life lessons from the Bible for today's kids!
The Shoebox Kids are back! As Sammy, Jenny, Willie, DeeDee, Chris and Maria meet at church, they find that their Bible stories have a strange way of fitting into the things that happen to them each week! Every week brings a new adventure in learning what the Bible means in real life‑at home, at school, or on the playground.
Favorite children's author Jerry D. Thomas brings you a brand new series on getting to know God. Every chapter is a double story‑first, one from the Bible, then a story from today showing a lesson that Bible story can teach. Questions at the end of each chapter open the door to better understanding and communication with your child.
In Book 1: From the Creation of the world to Abraham's test of faith, your children will discover that the Lord keeps His promises and takes good care of His kids!
Every story is an adventure in learning to be more like Jesus!
Comments (0)
---