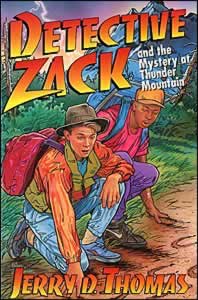 Zack is back and up to his notebook in his most baffling case yet. This summer-camp drama brings the young detective face-to-face with his own prejudices and the meaning of Christ in his own life.
Comments (2)
Dear Jerry Thomas,
I really like your Detective Zack books. I want to get all of your Detective Zack books and all the rest of your books. In book four (Mystery on Thunder Mountain), I really like the mystery. I like the mystery in book six too (Danger at Dinosaur Park). Thank you for coming to the Review and Herald and telling us about writing.
Sincerely,
Garrett
Crest Lane School
Posted Feb 03, 2007 | 7:09 PM by Garrett
Dear Mr. Thomas,
Thank you for telling us about your books. I thought it was cool when you told us that your son was the first Detective Zack. I got the Christmas Detective Zack (The Missing Manger Mystery) and so far it's great! I also had the Detective Zack and the Mystery at Thunder Mountain. It's a great book. Thank you for the bookmarks. I just want to say thank you for telling us about your books.
Sincerely,
David
Crest Lane School
Posted Feb 03, 2007 | 7:20 PM by David
---