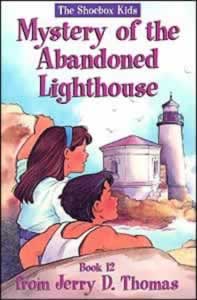 A Tombstone, a lighthouse and a life-changing secret
The Vargas's family vacation at the beach takes a turn for the mysterious when Chris and Maria discover a group of gravestones at the top of a small sand dune. Who was Charles Perkins? And what did the inscription on his gravestone mean? An abandoned lighthouse holds the key to the mystery, but Chris nearly breaks his neck after ignoring his father's warnings and climbing the lighthouse tower steps that collapse beneath him.
The Mystery of the Abandoned Lighthouse is full of surprises and lessons in trust as two of the Shoebox Kids dodge "sneaker" waves, follow clues to a hidden treasure, and finally uncover Charles Perkins' life-changing secret. A secret that changes Chris as well.
#12 in the Shoebox Kids mystery series.
Comments (0)
---