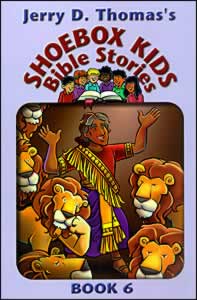 Book 6 in the Shoebox Kids Bible Stories series!
A baby king is hidden in the temple from wicked Queen Athaliah. Jonah, the prophet, takes a wild ride in the belly of a fish. Daniel spends a night with hungry lions, and Satan puts Job to a terrible test. These are some of the amazing stories from the Bible included in Book 6 of the Shoebox Kids Bible Stories series.
And, as usual, the "Shoebox" kids--Sammy, Jenny, Willie, DeeDee, Chris and Maria—are having adventures of their own that show what the Bible means in real life-at home, at school, or on the playground. As Sammy helps a family whose house burns down, DeeDee locks herself and her mom out of their new car, and Chris dives underwater to save Yoyo from drowning, the lessons from the Bible stories become even clearer. And each chapter has questions at the end so families can talk and learn together.
Comments (1)
This book is the best one.
Posted Feb 27, 2007 | 7:48 AM by Eli
---