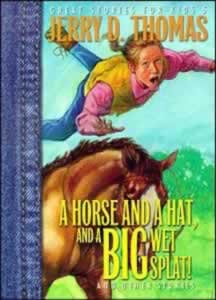 "Whoa, firecracker!" Stephanie held on as the horse ran faster - straight at the pond. "Stop!" she shouted. Just as his feet reached the water, Firecracker did stop.
Stefanie didn't. One second she was holding onto the saddle horn. The next second, she was flying over firecracker's head.
What can you do with a horse that won't listen to a word you say? Could you outsmart Firecracker? If you like stories full of adventure, danger, mystery, and fun, you'll love A Horse and a Hat, and a Big Wet Splat! Join in the "Water Balloon Battle," figure out "Shadow's Secret," and find out why you'd be "Happy to Be Arrested!"
Besides stories about baseball, motorcycle bullies, a secret fort in the woods, and other stuff, you'll get to see how other kids handle some of the things you have to deal with. Things like dealing with emergencies, being shy, facing problems in the family.
Comments (1)
i love horses and i wish i had one. i enjoyed this book, but sadly i had to put it back to the churck library
Posted Jul 09, 2008 | 12:56 PM by lisa sibanda
---