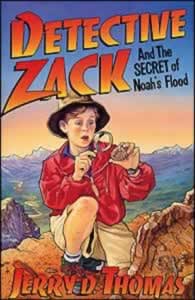 "Book One in the Detective Zack Series
Zack couldn't believe his ears. His best friend Bobby was actually trying to tell him that Noah's flood never really happened-that the stories in the Bible were just fairy tales! Could Bobby be right? When Zack's dad plans a trip to Utah for a special class about the Flood, "Detective Zack" is born.
With trusty notebook and explorer's hat, Zack begins a wonder-filled journey with his family in their minivan to enormous caves where trickles of water form long, pointy rocks; riverbeds where dinosaurs left huge footprints; and to mountaintops were seashells are stuck in the rocks!
Detective Zack and the Secret of Noah's Flood is an action packed story that builds faith in the Bible while capturing the imaginations of young minds that crave adventure. A sure hit for kids of all ages"
Comments (2)
We just finished this book, and I came on line to find out if they could be purchased in a set. We read it together (as we do any books I am familiar with) and we were all very pleased! It was funny interesting education and it honored God and family. We are looking forward to reading the whole set. I am now comfortable with the content and author enough to let them read the books freely in their own personal time. (Of course, I'll still ask them periodcally what is happening in the story. It makes for great meal conversations!) :-)
Posted Jul 13, 2007 | 7:49 AM by Pamela Schminke
Posted Mar 18, 2008 | 6:07 PM by Nikolet
---