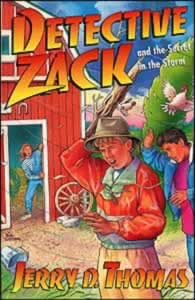 Number 7 in the Detective Zack series
A mystery in the middle of a hurricane! Who but Detective Zack could follow the clues and figure it out!
On a visit to their grandparents' farm, Zack, Kayla, and their cousin Dusty try to discover who's lurking around in the abandoned barn next door. Escaped prisoners, unexplained noises, stolen chicken feed, and a surprise attack lead Zack into an amazing adventure.
But Zack has a bigger mystery to solve. Why didn't God answer his prayers when his aunt was sick? Is what the Bible says about prayer true?
In the fury of the storm, Zack solves the mystery in the barn and learns an important secret—God can be trusted, no mater what happens.
Comments (1)
My school Excel Adventist Academy had this book program and I choose this one. I luv it!!!!!!!!!! Can u write a book about my school? If u want more details email me or my school.
Posted Oct 30, 2006 | 3:36 PM by Khesli
---