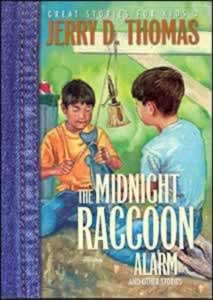 "The raccoons came back," James announced. "They always scatter the trash and we never even see them!"
"What we need is a raccoon alarm," his brother Jacob said. "Something that wakes us up when they start digging in the trash cans. What can we use?"
What would you use to make a raccoon alarm? If you like stories full of adventure, surprise, mystery, and fun, you'll love The Midnight Raccoon Alarm. Find out about "Beemer's Screamers," solve the "Mystery of the Missing Reindeer," and run from the "Attack of the Mutant Killer Mega-Wasps!"
Besides stories about camping, purple cows, a school play, and other stuff, you'll get to see how other kids handled some of the things you have to deal with. Things like being afraid, making good decisions, and dealing with bad language. The Midnight Raccoon Alarm is book three of the Great Stories for Kids set. In each book, the stories and pictures will make you jump back, laugh out loud, and keep you guessing what will happen next!
Comments (0)
---