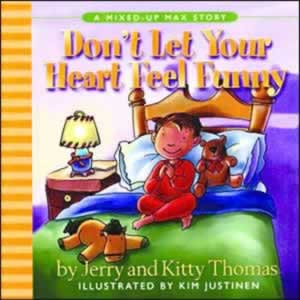 A delightful new picture book to help children trust God when they're afraid
Max gets things mixed up. Sometimes words turn themselves around when he says them. Sometimes it's just his socks.
When he sees soldiers and planes on the TV news, Max feels worried and a little scared—his heart feels funny. Later, when his sister Hannah is scared, Max tries to tell her his favorite Bible story. The result is a hilariously mixed-up story with exactly the right message—Jesus promises to watch over us and He sends special people to keep us safe.
Perfect for bedtime, naptime, storytime, or anytime, Don't Let Your Heart Feel Funny by beloved children's author Jerry D. Thomas, and his wife Kitty, uses a mixed-up, but lovable character named Max to help kids deal with their fears when scary things happen.
Comments (0)
---