Jerry's weblog
Proud grandparents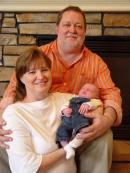 Kitty and I with our grandson Ethan
Kitty and I really enjoyed meeting baby Ethan for the first time last month. Now we have to live on new photos and a web cam until we go visit again next month.
A grandchild is an ongoing illustration of the concept of unconditional love. You can look into those little eyes and know that even though the little tyke has never done anything for you, even though he or she doesn't even know who you are, you'd do anything for them. You'd "take a bullet" for them, as they say, without a second thought.
Maybe grandparents get a little glimpse into the nature of God every time we look into those little faces.
Posted Apr 28, 2007 | 4:57 PM
Comments (0)
---