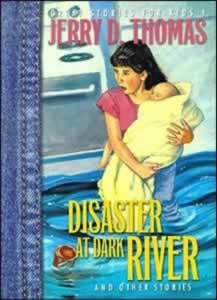 "We'll wait for Mom in the kitchen." Sitting on top of the kitchen table, she patted her sister and listened. Finally, she heard the sputtering sound of a boat. "Hey! Hey! We're in here!" she shouted.
What would you do if a river was flooding into your house and you were home alone with your baby sister? If you like stories full of adventure, danger, mystery, and fun, you'll love Disaster at Dark River. Watch out for "Trouble with Herk," survive "World War Five," and beware of "The Attack of the Frogs!"
Besides stories about moving to a new school, soccer, getting lost, guns, and other stuff, you'll get to see how other kids handled some of the things you have to deal with. Things like being afraid of the dark, being hated, worrying, and setting boundaries.
Comments (1)
dis book is a really interestin book i would like to read more like it sometime again!!
Posted Apr 06, 2008 | 8:26 AM by kelly
---