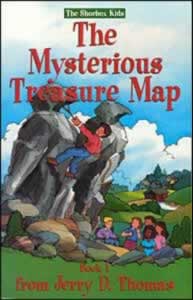 #1 in the Shoebox Kids Mystery series
The treasure map was all Chris and Ryan could think about. It led straight to the loot the train robbers of Snake Creek pass had hidden. the bandits had been captured many years ago, but the treasure had not yet been found. Now, Chris and Ryan had the map! They also had a problem: the mysterious writing on the map!
Old newspaper articles about the great train robbery lead the Shoebox Kids on a wild chase to find clues about the buried treasure. As they carefully study the map, Chris searches for an answer to his own questions about baptism and treasures in heaven. Will the Shoebox Kids find the treasure of find themselves in great danger?
Comments (0)
---