Mixed-up Max
Don't Let Your Heart Feel Funny, the first Mixed-up Max book, grew out of the 9/11 events. So many children watched all that happen live. So many parents had to adjust to a new world where you couldn't tell your kids that "nothing bad like that" could happen where they live. I wanted a Bible story that said, "Even when bad things do happen, God is still with us and He sends people to help and protect us." I couldn't find one that fit. What I needed was the Good Samaritan story told backwards. You know, "The man was attacked, but God sent someone to help him."
So my wife and I created Max, a character who mixes things up, including Bible stories. The charming illustrations by Kim Justinen made it a funny but very comforting story for young children and their parents.
Max makes a second appearance is More than Two Hand Full, a story about thanksgiving and sharing. Guess who Max has sitting down to eat with the Pilgrims on the first Thanksgiving!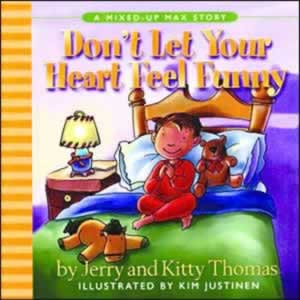 A delightful new picture book to help children trust God when they're afraid
Max gets things mixed up. Sometimes words turn themselves around when he says them. Sometimes it's just his socks.
When he sees soldiers and planes on the TV news, Max feels worried and a little scared—his heart feels funny. Later, when his sister Hannah is scared, Max tries to tell her his favorite Bible story. The result is a hilariously mixed-up story with exactly the right message—Jesus promises to watch over us and He sends special people to keep us safe. | Read more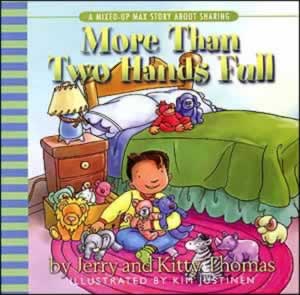 Mixed-up Max is back!
This time, Max learns a lesson about sharing when he has the opportunity to give some of his extra toys to a children's home at Thanksgiving. Max isn't sure he wants to share until he learns the les | Read more
---