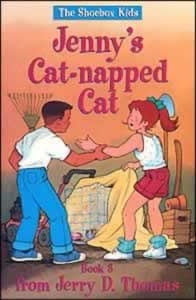 Book 3 of the Shoebox Kids Series.
Winning the blue ribbon at the church's Family Day pet show was all Jenny could think about.
Butterscotch, Jenny's cat, was sure to win with all the extra training, special diet and car Jenny was giving her. Things were going great until a new boy's dog chased Butterscotch, and the cat didn't return. Brokenhearted, Jenny blamed Tevin-the new boy whose dog started the touble-and then DeeDee for being Tevin's cousin.
The trail of clues eads right to Tevin. But Butterscotch remains missing. As Jeny and Natalie search for clues, Jenny forgives DeeDee and Tevin but finds it hard to forget what she thinks they did. But Jenny's greatest lesson comes when she learns who really is to blame for the catnapping
Comments (0)
---