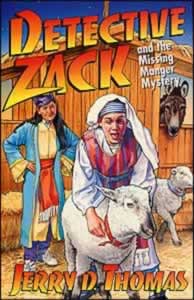 "Book 5 of the Detective Zack Series
Take a church Christmas program, and outdoor Nativity scene, real barking, mooing, bleating animals (including a camel!), a female "wise man," battling shepherds, a mysterious fire, a missing antique manger-mix them together, and what do you have?
One of the funniest and most memorable Detective Zack adventures yet!
It all started when Mrs. Hopkins warned that disaster was certain if the program were to e held outdoors. Truer words were never spoken! The fire nearly destroyed the stable, and Mrs. Hopkins's 80-year-old manger from Bethlehem was missing! As Detective Zack and his friend Luke hunt for the culprit, they begin finding evidence for the even greater mystery-Santa Claus. Where did he come from, and what do trees, stocking, and presents have to do with the birth of Jesus?
The trail of clues takes Zack and company on a "wild lamb" chase that eventually leads them to the villain and the true meaning of Christmas."
Comments (2)
Dear Mr. Thomas,
Thank you for telling us about your books. I thought it was cool when you told us that your son was the first Detective Zack. I got the Christmas Detective Zack (The Missing Manger Mystery) and so far it's great! I also had the Detective Zack and the Mystery at Thunder Mountain. It's a great book. Thank you for the bookmarks. I just want to say thank you for telling us about your books.
Sincerely,
David
Crest Lane School
Posted Feb 03, 2007 | 7:19 PM by David
Dear Jerry D. Thomas,
I am a fifth grader at Olive Grove Elementary School. I enjoyed reading your Detective Zack and the Missing Manger Mystery book. I loved it. Here are some parts that I enjoyed reading.
One part that I liked was when Zack found out that a manger is a cereal bowl for sheep. Boy was I in shock! Another part that I liked was when Zack had to ride a camel. The best part that I liked was when Judie made friends with Zack and Luke.
If you are ever in Antelope, California, I would like it if you came to Olive Grove room D12. I am sure everyone would like to see you. Especially the principal.
Sincerely,
Erik
Olive Grove Elementary School
Posted Feb 03, 2007 | 9:46 PM by Erik
---