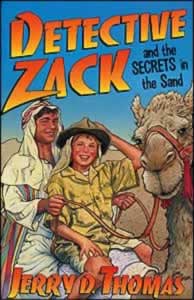 "#2 in the Detective Zack Bible Adventure series!
Detective Zack is back! And this time he's hot on the trail of Abraham and Moses in the lad of pharaohs and sphinxes. Living in goat-haired tents and riding knobby-kneed camels, Zack and his dad attempt to solve new mysteries while helping Dr. Doone film a video about archeology and famous people of the Bible. It's the trip of a lifetime!
But it gets even better when Zack meets Achmed, the son of their Middle Eastern guide. The two boys become fast friend as they camp along the shores of the Dead sea, dodge deadly snakes, and ride camel taxis along the same desert highways that the Old Testament heroes traveled thousands of years before. But even as evidence to support the Bible stories grows, so do the questions. Who built the sphinx? Did fire really fall from heaven and destroy Sodom? And what about the man with the red hat?
Another faith-building adventure story for kids that supports the Word of God and uplifts the Savior."
Comments (0)
---